Starbucks is rolling out a suite of employee benefits as it looks to lure workers despite a tight labor market, a growing field of aggressive co
Starbucks is rolling out a suite of employee benefits as it looks to lure workers despite a tight labor market, a growing field of aggressive coffeehouse competitors and the fallout from high-profile incidents at stores in Philadelphia and Tempe, Arizona.
The perks were announced this week at a leadership summit in Chicago for Starbucks executives and more than 12,000 store managers from the U.S. and Canada. New initiatives include mental health resources for employees, ride-share options to help workers get home safely and technological developments that will streamline or automate time-consuming tasks like inventory management and scheduling.
A strong, happy workforce – and effective outreach to the U.S. job candidate pool – is critical to Starbucks' plans to open more than 600 net new stores in the Americas in fiscal 2019 alone. The U.S. unemployment held near record lows at just 3.7 percent through August. A longtime leader among coffee chains, Starbucks is facing stiff competition from smaller local chains of high-end coffee shops as well as corporate rivals such as McDonald's and Dunkin' Brands.
"We've always listened to our partners, so it's just a chance for us to evolve that. I think it's really important right now in this competitive environment that we do our very best," Starbucks Chief Operating Officer Roz Brewer told FOX Business. "We think we're known for having great relationships with our partners, but we don't really want to rest there, because they're critical to us."
The new policies were developed in response to specific feedback Starbucks received from store managers, employees and tech-based monitoring of store inefficiencies. Current plans call for the automation or elimination of 17 hours of tasks. Store managers will no longer have to double-check inventory, coordinate deliveries or set up three weeks of schedules for 25 employees by hand.
Confrontations at the Philadelphia and Tempe stores complicated community outreach efforts and forced the company to rethink employee training. However, company officials say the policy changes are tied to a close study of internal operations that began two years ago.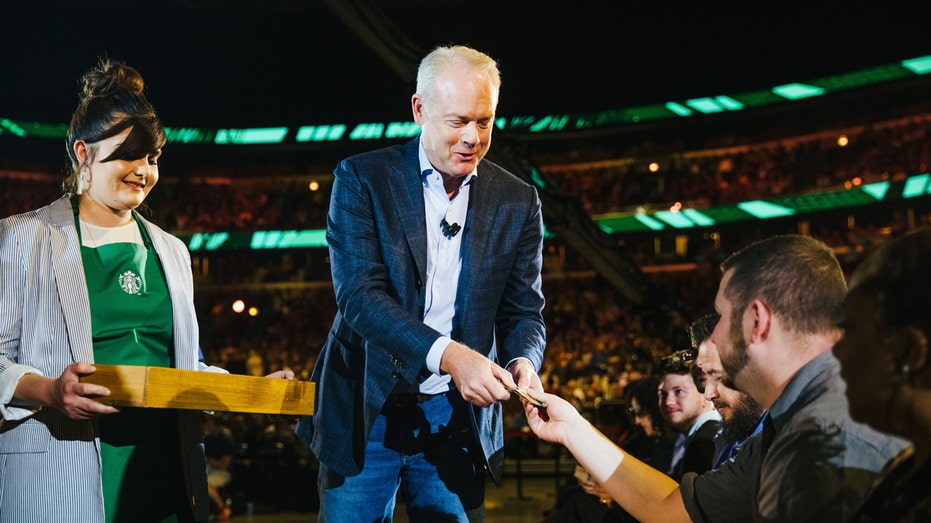 "Through strategic, long-term investments in labor hours, training, and streamlining tasks and processes critical to running a store, we will work to alleviate some of the pressure and stress that often limits our store managers to lead and grow," Starbucks CEO Kevin Johnson said in a letter to company employees.
A new approach to the mental health crisis is core to the company's efforts. In Chicago, store managers will take part in training sessions with clinical psychologists to learn "emotional first aid" and other ways of helping their employees. Starbucks is also set to offer subscriptions to mental health app "Headspace" by January.